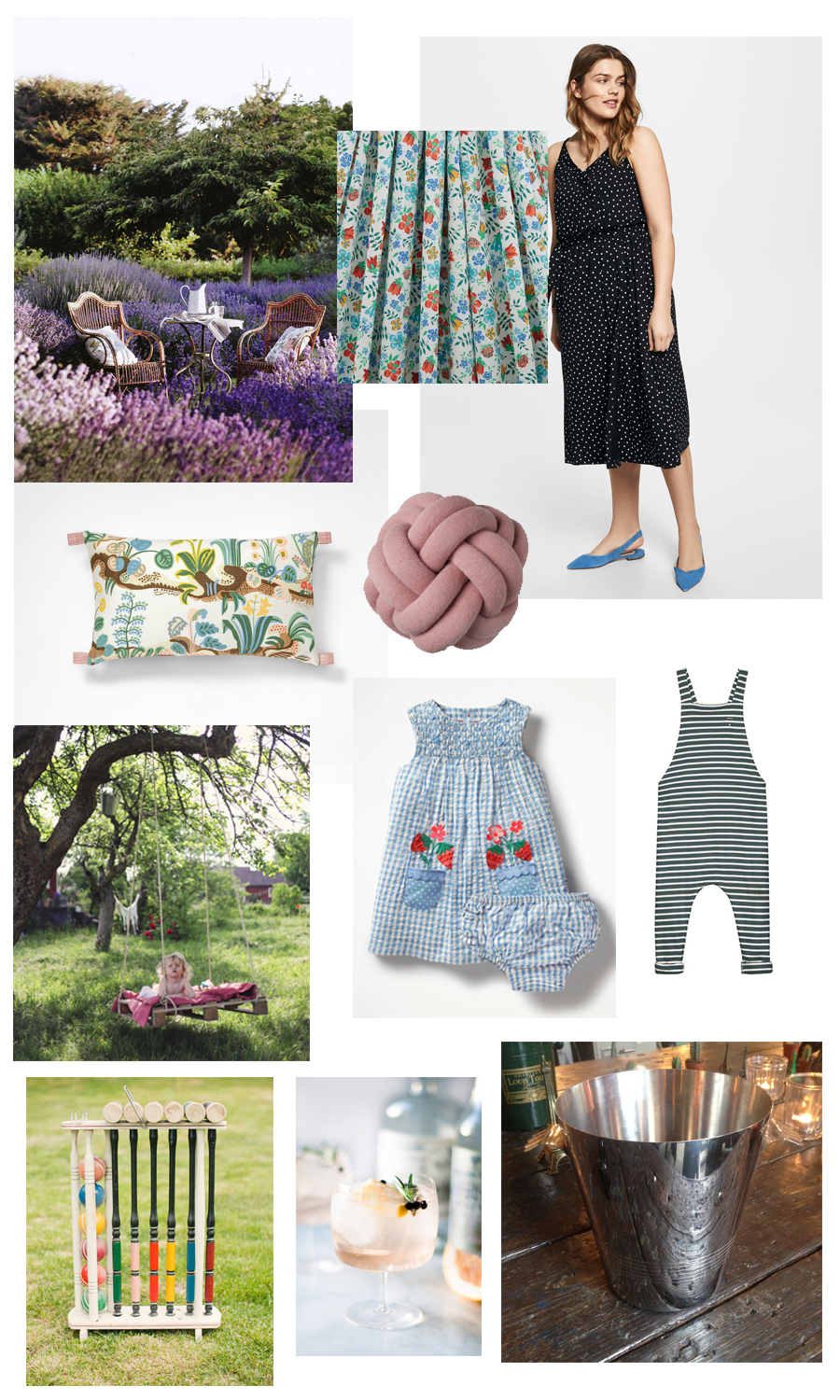 Hei, Fredag! Eg sit i butikken og drøymer om sommaren. Eg har prisa nye varer (blant anna nokre puter som er så hiiiiimla fine -> link), og det luktar vanilje i heile butikken fordi eg bakte solbærgrotter i dag tidlig, som ligg på det splitter nye Sognefjord-brettet og ser så himla fristande ut.
I går var me på ultralyd og fekk sjå babyen, så utrulig fint å få kjenna seg så nære. Og sjølv om eg kjenner rørsler typ heile dagen no er det så godt å sjå det óg, det er lettare å tru på det da.
Eg lengtar sånn mot sommaren. Me skal jo berre vera heime, me har ingen planar i det heile tatt. I midten av juni kjem det eit born, og det er liksom det.
Eg laga ein liten kollasj over sånn eg drøymer at det skal bli:
– Lavendel overalt, eg vil planta busker og også ha lavendel på trappa. Passa på å tørka den óg og laga lavendelposar til undertøysskuffa. Sånn er min drømmehage, forresten. Som ein episode av Miss Marple, der hagen er delt opp i ulike sitteområde og busker å søka tilflukt under. Bildet herifrå.
– Eit fint stoff, dette frå Liberty, til å laga ei fin pute til benken vår. Noko som passar til marmorbordet.
– Denne kjolen frå Mango er på veg heim til meg no, håpar den er ammevennlig.
– To puter til vår nye sofa som skal komma forhåpentligvis før barnet: ei frå Stockholm Design House og ei frå Svenskt Tenn.
– Til Saga vil eg kjøpa nokre nye plagg som er fine å springa rundt på garden med, lause deilige klede som tørkar på eit blunk når ho uunngåeleg blir blaut (ho har lært seg å skru på utekrana sjølv). Kjole frå Boden, selebukse frå Gray Label.
– I det store treet i tunet har eg så lyst til å laga ei slik pallehuske, nær bakken, der Saga kan chilla og lesa bøker og ha oversikt over oss vaksne. Emma har til og med laga ein DIY så det er heilt overkommeleg å laga den sjølv!
– Krokket. Elskar krokket. Eg er jo ein uteleikens venn, og tenkjer at Boccia og Krokket passar fint med eit glas vin i andre handa (og óg nokså apropos Miss Marple!). Bildekjelde.
– Gin & tonic. Ønskar meg ei fin flaske gin, og spisskammerset fullt av god tonic. Måtte me aldri gå tomme for lime og isbitar. Bildet kjem herifrå.
– Og, til all den herlege kvitvinen me skal servera, ønskar eg meg ei champagnebøtte. Som denne frå Fransk Bazar (som er ein av favorittbutikkane mine i Oslo).
Hi, Friday! I'm in my shop dreaming about summer. I've put tags on so many new things in the shop (like some pillow cases that are sooooo pretty -> link), and the entire shop smells like vanilla because I baked blackcurrant cookies this morning, and they're spreading all the joy.
We went to an ultrasound yesterday and got to see the baby, I love SEEING it for myself. Even though I feel movement all day every day (pretty much), it's good to see it too, easier to believe this is actually happening.
I'm really longing for summer. We're going to just stay home, no plans at all. In the middle of june, a baby is coming. That is all.
I made a little collage of how I want it to be:
– Lavender everywhere. I want to plant bushes and also have some plants on our stairs. And dry some too to make lavender bags for our underwear drawers. This is my dream garden by the way, like an episode of Miss Marple where the garden is split up into different stations of leisurely hanging out. Photo from here.
– A pretty fabric, like this one from Liberty, to make a cushion for our bench. Something that will look nice with the marble.
– This dress I just ordered from Mango, I hope it will be nursing friendly.
– Two cushions for our new sofa that will be arriving hopefully before the baby: one from Stockholm Design House and one from Svenskt Tenn.
– For Saga I want to get some new clothes that she can run around on the farm in, loose clothes that will dry in the sun in no time when she inevitably gets wet (she now knows how to turn the outside faucets on). The dress is from Boden, the trousers from Gray Label.
– From the big tree I want to make one of these big swings, close to the ground, where Saga can relax and read books and still know where everyone is. Emma even made a DIY so it would be pretty simple to make this ourselves!
– Croquet. I love croquet. I'm a friend of the outside games, and I think boccia and croquet is perfect with a glass of wine in the other hand (also very apropos of Miss Marple!)). Image source.
– Gin & tonic. I want a pretty bottle of gin and our pantry full of good tonic. May we never run out of lime and ice cubes. Photo from here.
– And, with all the lovely white wine we'll be serving, I want a champagne bucket. Like this one from Fransk Bazar (one of my favorite shops in Oslo).