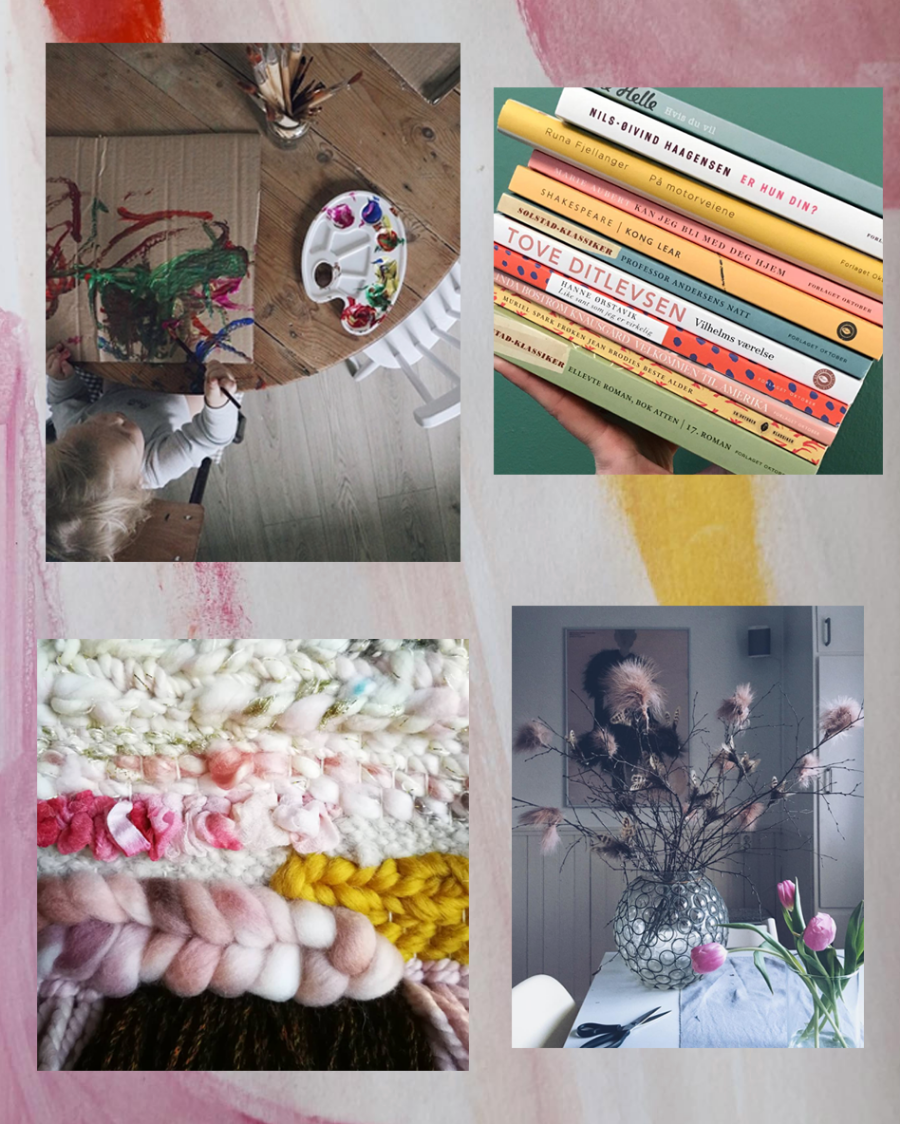 Eg skal straks springa på posten med ein gigantisk haug bestillingar, også skal eg heim for å feira svigermor sine 66 år! Men først tenkte eg å dela ei liste over ti ting som gjer meg glad å tenka på. Ti ting som eg har lyst til:
1. Læra meg å veva. Er så himla utålmodig med håndarbeid, men eg trur det er fordi ein må vera så strikt og følga mønster. Men med veving kan ein jo blanda teknikkar og laga spennande greier om ein vil.
2. Laga eit gigantisk påskeris til heimen, og mange små til butikken.
3. Produsera produkt for sommarsesongen, ha eigne postkort og prints til turistsesongen (og mammapermisjonen(!!!!)) startar.
4. Laga påskepynt med Saga, det er planen min for ettermiddagen i dag.
5. Gå på loppemarknad og skaffa fine møblar. Lengtar såååå mot ein god loppis.
6. Eta ei stor gryte med kikerter og spinat og krydder og koriander og yoghurt til.
7. Laga bål og grilla pølser med heimebakte pølsebrød. Høyrest ut som ein perfekt ting å gjera tidlig på våren. Kanskje me får gjera det i helga!
8. Lesa ei bok. Eg ønskar meg ro i rumpa til å lesa meir, eg har det så mykje bedre når eg les (sjølv om eg har det skikkelig bra akkurat no, skal aldri ta det for gitt).
9. Ta eit bad! I kveld!
10. Sjå The Square som eg har kjøpt i iTunes men som Jostein og eg utsetter og utsetter og utsetter fordi den er to og ein halv time lang og me er trøytte småbarnsforeldre.
I'm going to run off to the post office really soon, with such a huge pile of orders, and then I'm going home to celebrate my mother in law and her 66 years! But first I wanted to share a list of ten things that make me happy to think of. Ten things I want to do:
1. Learn how to weave. I'm so impatient with crafty things, but I think it's because most of it is so rigid and you have to follow a pattern. But with weaving it's easy to mix techniques and make exciting things.
2. Make a giant påskeris for our home, and lots of small ones for the shop.
3. Make products for the summer season, have my own post cards and prints for when tourist season (and my maternity leave(!!!)) officially begin.
5. Go to a flea market and get some nice furniture. I'm really longing for a good flea market.
6. Eat a big thing of chickpeas and spinach and spices and coriander with some yoghurt.
7. Make a fire and grill hot dogs with home baked buns. Sounds like the perfect thing to do in this early springtime. Maybe we'll do that this weekend!
8. Read a book. I want the calm to read more, I am so much happier when I read (although, I am actually really good right now, not going to take that for granted).
9. Take a bath! Tonight!
10. Watch The Square, I have bought it in iTunes but Jostein and I keep pushing it forward because it's two and a half hours long and we're tired parents.