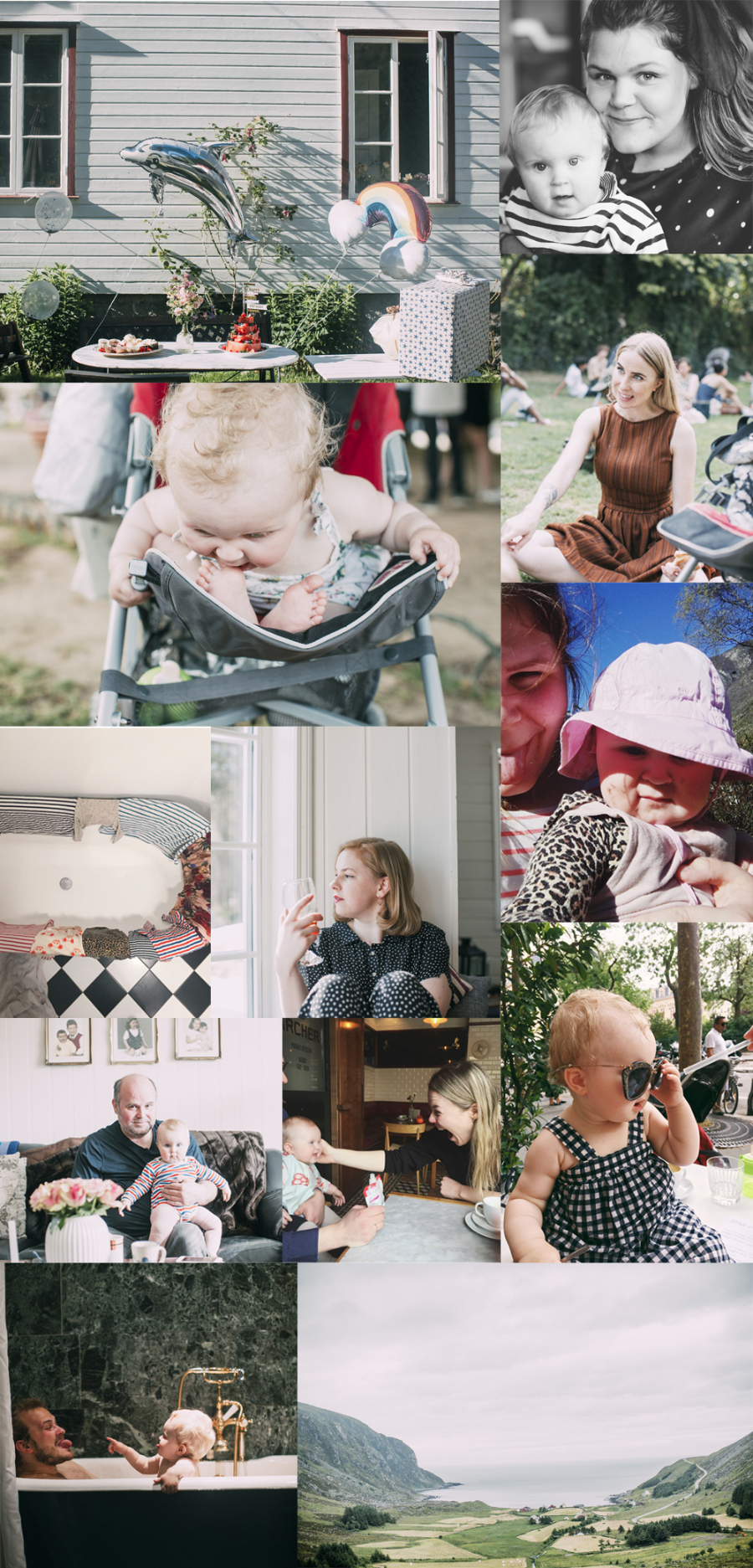 +
Fredag
Då 2016 vart 2017 hadde me ingen aning om kva som skulle skje. Å opna butikken har vore den mest oppbyggande prosessen eg har gjort i bedriftsverda og eg går inn i 2018 med tonnevis av sjølvtillit på grunn av det. 2018/2019 blir eigne punkt i mi historie som businesswoman.
Å reisa med Saga
I 2017 besøkte me Paris, Gøteborg, London og København med Saga, fantastiske og utfordrande reiser på kvart sine vis. Blir så glad når Jostein og eg dealar med overtrøytt unge på fly utan å mista tolmodet med kvarandre.
Venner/suksess
Å sjå Fredrik komma inn på master på KHIO (utan bachelor, må jo sei det!!), å sjå Frøy synga i operaen i København, å få følga Mariell si reise mot sitt businesswoman empire. Har gjort meg så latterleg stolt i 2017.
Kreativitet
2017 gav meg ein dytt eg enda lever hardt i. Eg har gjort ein god el produktutvikling og i 2018 vil Fredag endeleg få bli det det er: eit konseptstudio. Me vil komma til å gi ut vår første bok, så skummelt å skriva det men det føles bra å berre senda det ut i universet óg!
–
Økonomi
Det er eit rart punkt å gjera, kanskje, sidan me absolutt ikkje lir nokon nød her i huset, men 2017 var annleis for meg økonomisk. Eg er vant til å vera den som tjenar mest i familien, og 2017 vart ikkje eit sånt år. 2017 var året då eg hoppa i noko utan sikkerhetsnett og lot Jostein bæra oss. Det kom alltid til å vera belastande å starta noko nytt, men eg var ikkje heilt klar for at det skulle følast rart i identiteten min å ikkje tjena så mykje som eg hadde håpt.
Tjuveriet i Gøteborg
På ferie i Gøteborg i sommar vart me frastole ein koffert med alle kleda mine, Hasselblad-kameraet mitt, ei bok eg var midt inne i. Framleis aksepterer eg det ikkje, eg saknar kleda mine heile tida. Men heldigvis har eg fått meg eit nytt Hasselblad.
Brudepar
Eg var for rask på avtrekkaren då eg booka bryllaup for 2017. Brukar jo å ta meg tid, bli litt kjent med folk før eg seier ja. Men eg var så altfor ivrig etter at sommaren 2016-sesongen forsvant i barneføding og amming. Resultatet var heile to brudepar eg aldri skulle ha takka ja til, og det føles så trist. Det blir ein klokare meg som bookar for 2019.
Psyken
Sååååå mykje angst i 2017. Det toppa seg rundt jobbingen min, å reisa ifrå Saga for å jobba, å ikkje få legga ho om kvelden. Det var ein heilt ny type gråt. Og graviditeten har vore vanskeleg å prosessera, blant all den andre turbulensen som har hagla rundt meg. Men 2018 blir enklare, det ser eg allereie no.
+
Fredag
When 2016 became 2017 we had no idea what was going to happen. Opening our shop has been the most rewarding process I've ever done in business, and I'm going into 2018 with so much confidence because of it. 2018/2019 will be their very own chapters in my businesswoman history.
Travelling with Saga
In 2017 we visited Paris, Gothenburg, London and Copenhagen with Saga, amazing and challenging journeys in each their own ways. It makes me so proud when Jostein and I deal with a too tired kid on a plane without losing patience with eachother.
Friends/success
Seeing Fredrik get accepted to the masters program at KHIO (the arts college in Oslo) without a bachelor degree, seeing Frøy sing at the opera in Copenhagen, following Mariell's journey towards her businesswoman empire. I have been tremendously proud in 2017.
Creativity
2017 gave me such a boost that I'm still thriving from. I've done some product development in 2017, and in 2018 Fredag will finally get to be what it always should: a concept studio. We are going to be publishing our first book, which feels so scary to write but also nice to send into the universe.
–
Finances
It's a weird point to make since we're in no way suffering in this house, but 2017 was different for me financially. I'm used to being the breadwinner, and 2017 was not like that at all. 2017 was the year I jumped into a new business and let Jostein carry us. It was always going to be challenging starting something new, but I wasn't expecting it to shake up my identity as much.
Getting robbed
On our trip to Gothenburg last summer our car got robbed. All my clothes, my Hasselblad camera, a book I was in the middle of reading. I'm still not OK with it, I miss my clothes all the time. But I did get myself a new camera.
Weddings
I was too quick to book weddings for 2017. I like to take my time, get to know people a little before I say yes. But I was far too eager to get back on the horse since 2016 kind of vanished into birthing and breastfeeding. The result was two couples I should never have said yes to, which feels so sad. Future me is going to be much wiser when booking for 2019.
The mind
So much anxiety in 2017. It mostly revolved around work, leaving Saga to go work, not getting to put her to bed at night. That was a new kind of crying for me. And this pregnancy has been really hard to cope with, amongst all the other turbulence happening around me lately. But 2018 is going to be better, I can see that already.