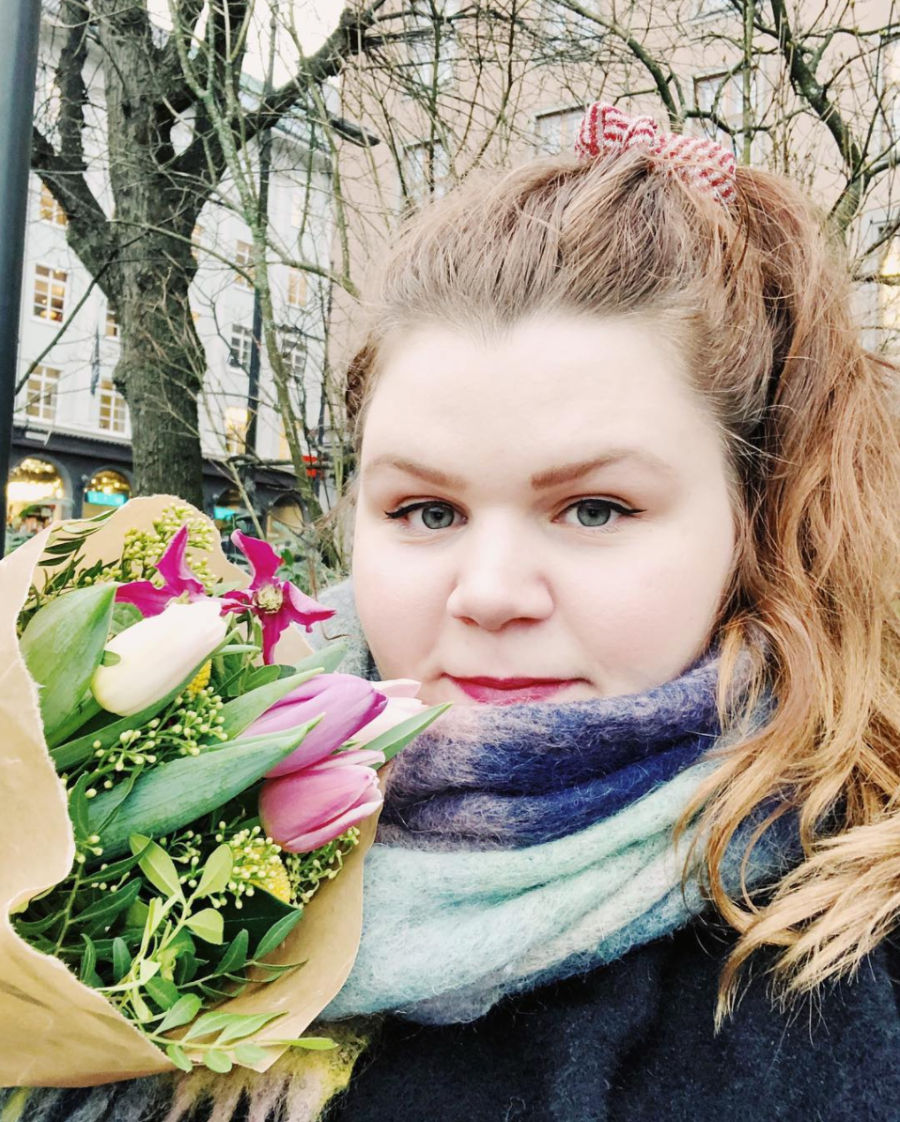 Hei på fredagskvelden! Her er eg! Denne fredagskvelden føler eg meg litt forvirra, som ein gjer når arbeidslivet ikkje har heilt starta igjen etter nyttår. Jostein sit i stova og jobbar med musikk til forestillingen på DNS, og eg varmar føtene på ovnen og summar meg litt etter dagen.
Me har erklært unntakstilstand i huset no, og gitt oss sjølve lov til å jobba om kvelden. Jostein driv med forestillingen til DNS (meir info her, om nokon er interesserte!), å omsetta La Boheme for Opera Nordfjord pluss ein masse administrativt i eit stort nytt prosjekt som både eg og han er involverte i.
I dag var me på rutineultralyd på sjukehuset i Førde. Det tar to og ein halv time å køyra dit og eg hadde angst av typen som tek over alle cellene i kroppen og gjer at det prikkar og verker overalt, i to og ein halv time. Både før og etter var eg heilt utslitt, måtte tvinga meg sjølv til å halda meg vaken i bilen. Men alt såg bra ut med den vesle der inne, så himla aktiv. Klødde seg til og med i hovudet så me såg det. Eg gjekk frå sjukehuset og følte meg så glad, og så takksam for den gleden som eg ikkje visste at skulle komma.
Kom heim til ei svigermor som hadde vore med Saga heile dagen, og i tillegg vaska alt skittentøyet vårt og laga ein diger pølsegrateng til middag. Ein kan jo villa grina av mindre, det er så fint. Så små ting som er så himla store. Føler meg så trygg her i vårt vesle hus, på vår vesle gard. Neste veke kjem den nye senga vår óg, og da får eg lyst til å mala soverommet såklart. Tenkjer meg ein pistasjfarge på veggane, og nye lamper til over senga. Flaks for meg at dynene våre er frå England og er 200x200cm, så det ikkje finst noko sengeklede å få kjøpt her i landet. For da ville eg ha vore sååååå blakk.
Medan Saga har sove i veka som var har eg ikkje brukt macen min så mykje, men eg har skrive blogginnlegg i notatboka mi! Blant anna om TV som Jostein og eg har sett på i det siste, og om det beste og verste i 2017, som eg har tenkt å transkribere. Føler meg meir modig når eg skriv med penn og papir, så me får sjå om eg vågar å publisere det!
I helga må me flytta ut jula (trist!) og gjera herlege heimlege ting. Vil gjerne baka noko, vil gjerne planlegga litt for kjøkkenhagen 2018 (og finna ut kor ambisiøs ein kan vera med termin i juni).
No skal eg brygga meg ei kanne med te, eg tenkte Casablanca frå Mariage Freres, det er favoritten akkurat no.
Hellooo friday night! I'm here! On this friday evening I'm feeling a little confused, which I guess is normal when work life hasn't really started since new year's. Jostein is working on music right now, for the children's theatre show in Bergen and I am warming my feet on the oven and gathering my thoughts after today.
We've declared a state of emergency right now, and allowing ourselves to work in the evenings. Jostein is doing the children's theatre, translating La Boheme for an opera house and a lot of admin stuff for a big project we are both a part of.
Today we had our routine ultrasound scan at the hospital. It takes two and a half hours to drive there and my body was filled with anxiety of the kind that makes every single cell in your body ache and tingle, for two and a half hours. Both before and after I have been completely exhausted, I had to force my eyes open on the drive. But everything was fine with the little one in utero, a lot of bouncing around in there. It even scratched its head while we were watching. I left the hospital feeling so happy and so grateful for this joy I was hoping would arrive.
We arrived home to my mother in law who had spent the entire day with Saga and on top of that, done all our laundry and made a big dish of pasta gratin for dinner. I'm lost for words, it's so nice. Those small things that are so, so huge. I feel so safe here in our little house, on our little farm. Next week our new bed is arriving too, which of course makes me want to paint the bedroom. I'm picturing a pistacchio shade for the walls and new lamps above the bed. Lucky for me our duvets are fro England and 2x2m, and there is no bedding to get in Norway for them. Because I would be soooo broke.
While Saga napped this past week I haven't used my mac so much, but I've written down full blog posts in my note book! About TV that Jostein and I are watching right now, the best and worst about 2017 that I'm going to transcribe them. I do feel more brave when I use a pen and paper, so we'll see if I dare hit "Publish"!
This weekend we'll have to pack up christmas (sad!) and do homely things. I would love to bake something, and plan for our garden 2018 (find out just how ambitious I want to be when I'm due in june).
I'm going to make myself a pot of tea now, Casablanca from Mariage Freres is my favorite right now.