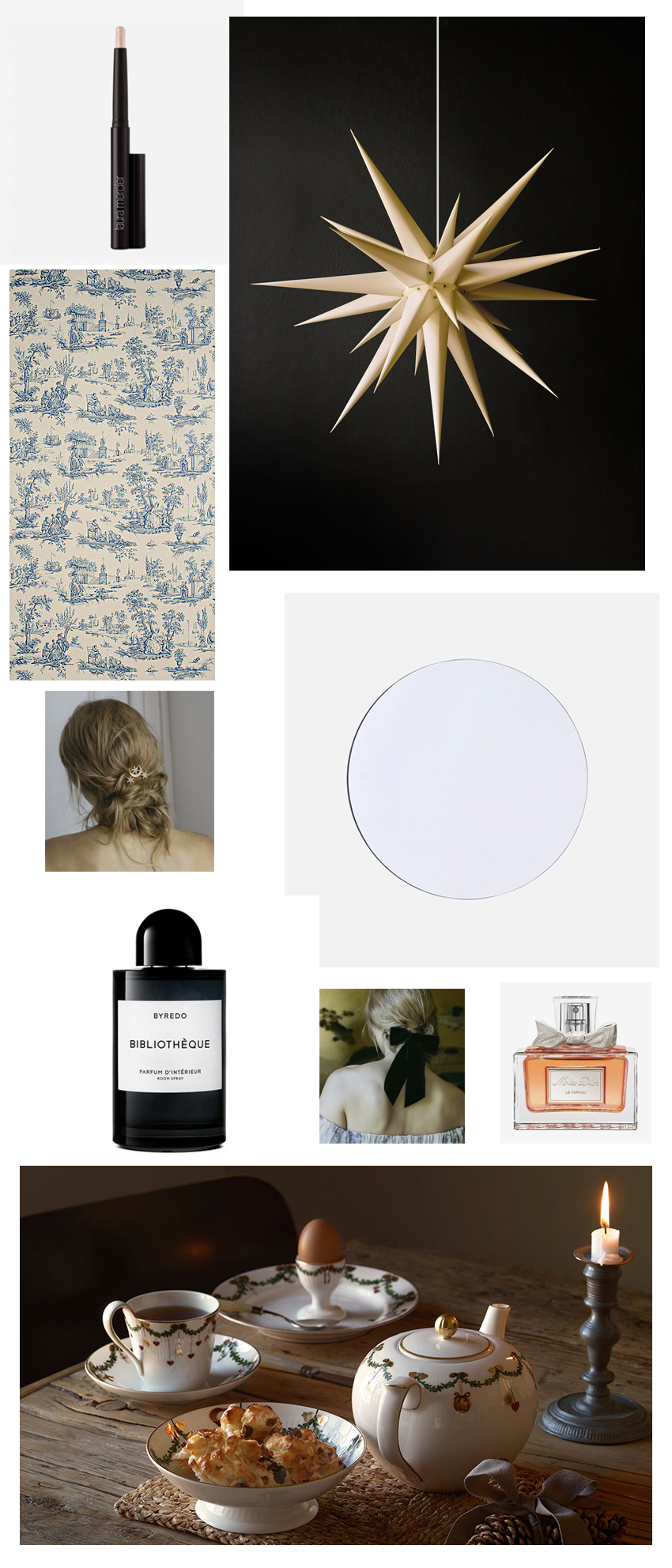 På fredag er det 1.desember! Eg er sjølv nesten ferdig med julegåvene mine (WOHO!), men eg tenkte at det ville jo vore trist om de ikkje fekk vita kva eg ynskjer meg i år.
På lista har me:
– Caviar Stick frå Laura Mercier, denne i Rose Gold
– Tapet frå Sanderson til soverommet, er så klar for noko nytt og varig
– Ei lampe frå Artilleriet som er perfekt for desember.
– Hårpynt frå Jennifer Behr, anten med stjerner og måne, eller ei gigantisk fløyelsløyfe å festa i den elegante hårstilen eg såklart alltid har.
– Ein gigantisk spegel frå Oslo Deco, denne er 110 cm diameter!
– Romspray frå Byredo i Bibliotheque. Det er favorittduftlyset mitt i heile verda, og eg hadde elska den i heile huset.
– Miss Dior Cherie Le Parfum. Min parfyme.
– Juleservise frå Royal Copenhagen, som eg har nøyaktig 0 delar av så langt.
On friday it's december 1st! I'm almost done with my christmas presents (YAY!), but I thought it would be so sad if you didn't get to see what I want for christmas this year.
On the list:
– Caviar Stick from Laura Mercier, this one in Rose Gold
– Wallpaper from Sanderson for our bedroom, so ready for something new and lasting
– A lamp from Artilleriet, perfect for december
– Hair things from Jennifer Behr, either with stars and a moon, or a giant velvet bow to put in the elegant hair style I undoubtedly always have
– A gigantic mirror from Oslo Deco, this one is 110 cm diameter!
– Roomspray from Byredo in the scent Bibliotheque. It's my favorite scented candle, and I would love it in the whole house.
– Miss Dior Cherie Le Parum. My scent.
– Christmas china from Royal Copenhagen, of which I have exactly 0 parts yet.