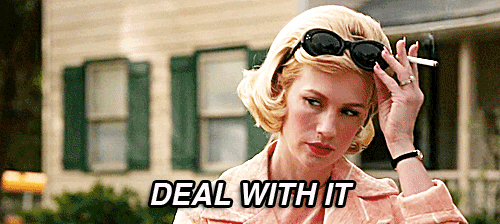 Å gi råd er jo ein interessant og intrikat sak, ein må vinkla rådet til personen som mottar og korleis den vil motta det. Derfor er det jo gøy å berre kasta om seg med råd som ingen har bedt om. Under her kjem det 11 råd! Og om du har eigne, så kast dei inn i kommentarfeltet.

Strømpebukser som held og er lett å legga i lag:
Asos sine i 200 denier med spanx/sykkelbukse over for å holda strømpebuksa oppe og magen varm.
Middag når ein ikkje har noko i kjøleskapet:
Tomatsuppe med scones. Har du hakka tomater og mjøl er du good to go, typ. Eller makaroni og ost, såklart. Det finst alltid ein liten ost i kjøleskapet.
Korleis vera effektiv på mathandling:
Å skriva handlelista etter layouten i butikken
Dåpsgåve som er solid og likevel leiken:
Treleiker som kan vara eit heilt liv frå Sarah Bendrix.
Å få Saga til å sova gjennom natta:
Å sjå og justera etter hennar behov (ho sov mellom oss, så ved sidan av meg, så i vugge på rommet vårt, så på sitt eige rom) og ein sunn dose av CIO kombinert med å vera sikker i sin sak. Kunne skrive heile avhandlingar om det.
Fine bh-ar for puppar type store:
Chantelle og Triumph
Noko å baka til eit kakebord:
Kladdkaka med lime, tek null tid å laga.
Korleis å fanga mus:
Feller, type rapp, rigga med salami langsmed veggar
Korleis få kanelbollar til å bli så blanke som på bakeriet:
Sukkersyrup (kok opp like mengdar sukker og vatn) som penslast på når dei kjem ut av ovnen
Om du har lyst til å drikka vin, men ikkje kan drikka ei heil flaske:
Denne saken frå Le Creuset.
Korleis holda planter i live:
Hold vatningen på ein fast dag i veka. Skriv det opp i kalenderen og lag til og med alarmar i mobilen om du treng.
Giving advice is an interesting and intricate thing, to angle the advice to the person receiving it and how they'll receive it. That's why it's just such a hoot to give advice nobody really asked for. Here's 11 of them. And please feel free to throw in some of your own!
Tights that don't break and are easy to layer:
Asos has ones that are 200 denier, so those with spanx/shorts over to keep everything up and that belly warm.
Dinner when there is nothing in the fridge:
Tomato soup with scones. If you have tinned tomatoes and flour you'll be good to go. Or a little macaroni and cheese? There's always a little bite of cheese in the fridge.
How to be efficient at the grocery store:
Writing the shopping list with the shop's layout in mind
A gift for a baptism that is solid but playful:
Wood toys for a lifetime from Sarah Bendrix.
How we got Saga to sleep through the night:
Constantly adjusting after her needs (she slept between us, then on my side, then in a crib in our room, then in her own room) and a healthy dose of CIO combined with being confident. I could write so many pages on this.
Pretty bras for boobs type big:
Chantelle and Triumph
Something to bake for a party:
Kladdkaka (wet brownies) with lime, takes no time to make.
How to catch a mouse:
Rapp traps rigged with salami, put them along walls.
How to make cinnamon buns shiny like at bakeries:
Sugar syrup (boil equal amounts sugar and water) that you brush on as they come out of the oven
If you want to drink wine but can't finish a bottle:
This thing from Le Creuset.
How to keep plants alive: 
Do the watering on a set day every week. Write it in your calendar and make alarms in your phone if you have to.