Søndag skapte eg magi med tapet. Hugsar de dokkehuset mitt? Då eg kjøpte det, i 2012, betalte eg 35 pund for det og var den stoltaste personen i verda då eg bar det heim. Slik såg det ut:
On sunday I made magic with wallpaper. Do you remember my dollhouse? When I bought it, in 2012, I paid 35 pounds for it and was the proudest person ever, carrying it home. It looked like this: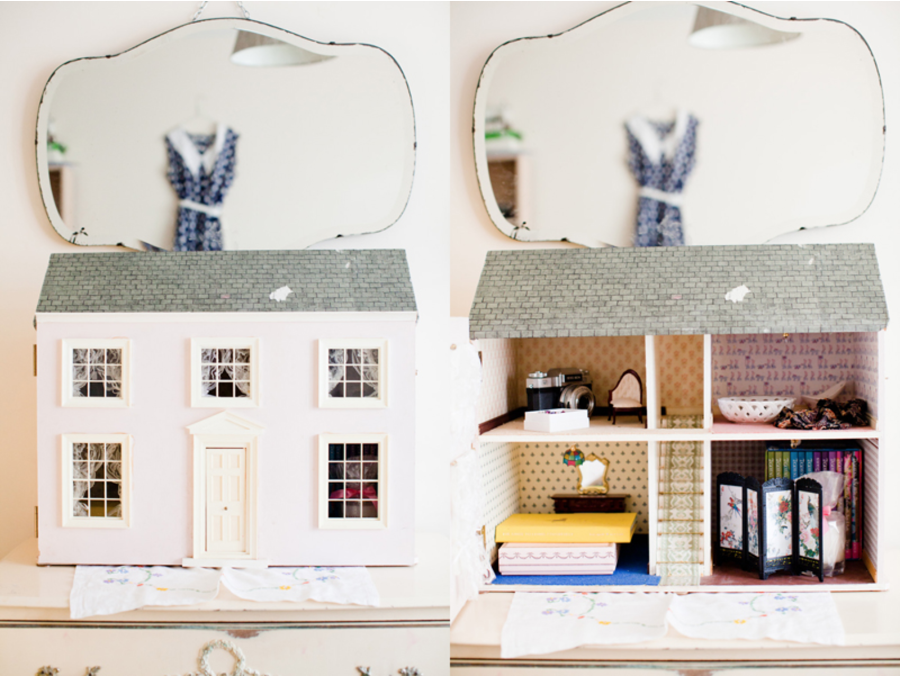 De kan jo klikka
her
for å lesa kva eg skreiv om det då. Etter kvart som me budde i London endra stilen min seg noko, og til tider følte eg meg ganske dum som eingang hadde eit dokkehus ståande framme i leiligheten. Men likevel, det minna meg så mykje om barndommen og Barbiehuset eg hadde då, at det fekk bli. Eg var óg frista til å setta det igjen i London då me flytta, men det var jo plass i flyttebilen, så det fekk bli med. Etter me tapetserte gjesterommet hadde me nokre tapetrestar, og ei natt forrige veke fekk eg idéen om å tapetsera dokkehuset utvendig! Så søndag gjorde eg det!
You can click
here
to see what I wrote back then. As the years passed, my style changed a little and at times I just felt silly about having a doll house on display in our flat. But still, it reminded me so much of my childhood and the Barbie house I had then, that I let it stay. I was also tempted to leave it in London when we left, but there was room in the moving van so we let it come with us. After wallpapering our guest bedroom we had some leftover wallpaper, and one night last week I had the idea of wallpapering the dollhouse on the outside. So, on sunday, I did it!
Medan svigermor passa bornet sat eg på golvet på kjøkkenet og såg på Mary Poppins og pussa og skrudde og limte til det såg slik ut! Langt ifrå perfekt, men ganske uimotståeleg. No er berre spørsmålet kvar i huset me skal ha det ståande.
While my mother in law watched the baby, I sat on the kitchen floor watching Mary Poppins and wallpapering until it looked like this! Far from perfect, but pretty irresistible. Now the question is where to put it.