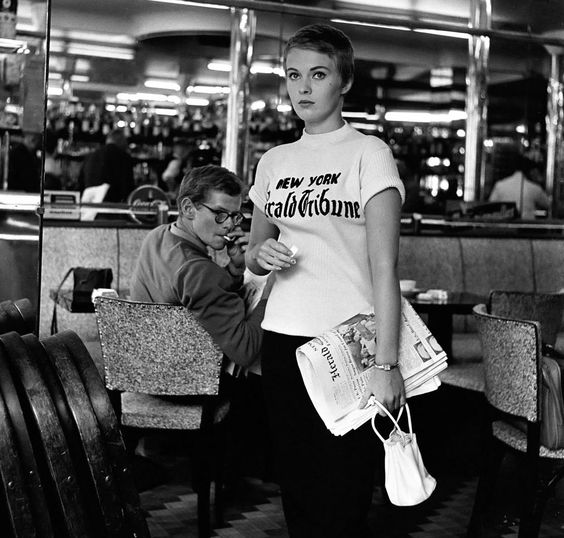 I dette sekund lagar Jostein french toast til meg, eg høyrer berre ei veldig intens visping. Det er rart kor snille folk blir rundt ein når ein er superhormonell! <- ikkje ein aprilsnarr. Medan eg fantaserer om kva eg skal ha på mine arme riddarar, tenkte eg berre å sei ifrå til dei av dykk som bur i London, at
me har nokre ting til salgs
no som me skal flytta. Mykje glas og porselen, og litt møblar óg. Bildet er fra filmen Breathless, der Jean Seberg selger aviser for New York Herald Tribune. Om du ikkje har planar for helga, sjå den! Ha ein fin laurdag!
Right this minute, Jostein is making me a french toast breakfast, all I can hear is an intense whisking. It's odd how nice people are around you when you're super hormonal <- not an april fool's. While I'm fantasizing about what to put on my toast, I thought I'd let you know, if you live in London, that
there are some things for sale
now that we're moving. A lot of glass and china, and some furniture too. The picture is from the movie Breathless, where Jean Seberg sells newspapers for New York Herald Tribune. If you don't have plans this weekend, watch it! Happy saturdays to all!