1. Kva ser du fram imot denne veka?
– Å henga med Haleigh, å finna ein stripegenser til ein viss baby, croissanten som Jostein akkurat no er ute og kjøper, at podcasten kjem ut med ny episode på torsdag (som typ kun handlar om Paris), nye loppemarked på laurdag og søndag, pluss all instagrammingen eg skal gjera medan me er her.
1. What are you looking forward to this week?
– Hanging out with Haleigh, finding a stripey jumper for a certain baby, the croissant that Jostein is out buying right now, my podcast coming out with a new apisode on thursday, new flea markets on saturday and sunday and all of the instagramming I will be doing while we're here.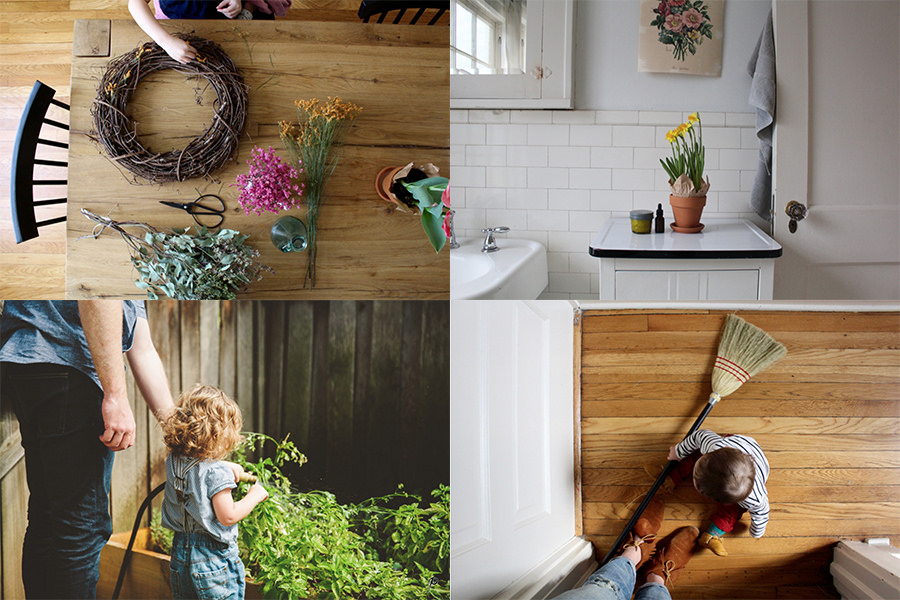 2. Kva var den siste bloggen du byrja å lese?
– Skreiv eit heilt lite innlegg om det
her
!
2. What was the last blog you started reading?
– I wrote a whole little entry on that 
here
!
3. Skal du laga nokon digg mat denne veka?
– Ingenting avansert, typ digg pasta eller ein stor salat! Aller mest vil ein jo berre eta ute eller eta enkelt når ein er på ferie, og det er så rart å ikkje laga mat i sitt eige kjøkken.
3. Will you be cooking something good this week?
– Nothing advanced, maybe some pasta or a big salad! Mostly we want to eat out or eat simple things on holiday, and it feels a little odd cooking in someone elses kitchen.
4. Sei ein ting du verkeleg vil gjera som du skal ta deg tid til denne veka!
– Sminken. For i kvardagen har eg ikkje ork til å putta på eit fullt fjes med sminke, men det gjer meg veldig glad å føla meg så put together som eg gjer i Paris.
4. Say one thing you really want to do that you'll take the time for this week!
– Makeup. Because in my everyday life I don't have the energy to put on a full face of makeup, but it makes me so happy to feel as put together as I do in Paris.
5. Kva for ord skal du holda hardt heile veka?
– Pause. Eg må hugsa å ta dei fem minutta på ein benk når eg treng dei, og hugsa at gravid-Mariell fortare blir sliten.
5. What is the word to hold on to this week?
– Pause. I have to remember to take that five minute time out when I need to, and remember that pregnant Mariell gets tired.
6. Kva gjorde du i går kveld?
– Spelte inn podcast med Sara også såg eg ein episode med How to get away with murder og laga middag medan Jostein låg i badekaret. Så åt me, pasta med lauk, tomat, pinjekjerner, pancetta og mozzarella, til ein Poirot og til dessert dyppa me speculoos-kjeks i te frå Mariage Freres. SÅ FIN KVELD.
6. What did you do last night?
– Recorded a podcast with Sara and then watched an episode of How to get away with murder whilst making dinner while Jostein was in the tub. Then we ate, pasta with onions, tomato, pine nuts, pancetta and mozzarella, with a Poirot! For dessert we dunked speculoos biscuits in Mariage Freres tea.
7. Eit bilde som symboliserer denne dagen↑
– Paris paris paris og vår vår vår. Det er ikkje på langt nær så varmt eller grønt, men vårsjela har landa her.
7. A picture to symbolize this day↑
– Paris Paris Paris spring spring spring. It isn't by far this green or warm, but the spirit of spring has landed.
8. Kva åt du til frukost i dag?
– Eg skal eta frukost om typ fem minutt, og det blir yoghurt i glascontainer (favoritt) med Lizi's granola, (favoritt no2!), ei pære pluss ein croissant. Babyen elskar croissantar!
8. What did you have for breakfast today?
– I will be eating breakfast in five minutes: yoghurt from glass containers (my fave) with Lizi's granola (also a fave!), a pear and a croissant. The baby loves pastry!
9. Når på morgonen vaknar du?
– I desse dagar er det fullstendig uforutsigbart og kjem heilt an på kva dag eg har hatt dagen før. Håpar det stabiliserer seg meir utover i andre trimester, for no kan eg vakna klokka sju éin dag og klokka ni den neste. Trur eg må bli voksen og legga meg typ klokka elleve eller før!
9. When do you wake up in the morning?
– These days it's completely unpredictable and depends on the day before. I hope it stabilizes a bit more into the second trimester, because now I'm waking up at seven one day and nine the next. I think I may need to grow up and go to bed at eleven or before!
10. Korleis ser du ut til kvardags?
– Kjole, svart strømpebukse og svart cardigan. Som ein uniform!
Liste frå Elsa.
10. What is your everyday look?
– A dress, black tights and a black cardigan. Like a uniform!