I april flyttar me jo heim til Norge. Eg lengtar meg ihjel etter det livet, stille kalde morgonar med fyr i ovnen og bryggkaffe. Plass til å husa fotokurs over ei heil helg og lagringsplass til alle rekvisita eg føler at eg MÅ HA. Me flyttar jo til eit heilt hus, og eg skriv no lange lange lister over sånt eg ønskar meg. Akkurat no har dei slipt ned golvet på kjøkenet, så det skal bli så fint som det ein gong var, dei nye større vindauga til kjøken og spisestua er i hus, me ser på kva mønster sjakkrutene på badegolvet skal ligga i og funderar på tapet/ikkje tapet i trappegangen. Gler meg til å komma heim så me faktisk kan visa fram litt!
Eg tenkte å dela nokre av dei tinga her både så de kan sjå litt kva eg har tenkt med feelingen i heimen, men óg så de kanskje kan hjelpa meg å finna desse greiene! Det er ein fin blanding av familiehytta vår, Elsa Billgren sin heim, Åmot Operagard, Buvette, Johanna Bradford sin heim pluss italienske slott.
PS: eg tenkte at framover vil eg løfta fram spørsmåla dykkar til eigne innlegg, som eg veit at mange andre bloggarar gjer. Eg blir overivrig når de stiller spørsmål i kommentarfeltet, anten det er supertrivielle ting eller kompliserte filosofiske spørsmål. Så framover kan de berre spørja i veg i kommentarfeltet sjølv om det ikkje har med innlegget å gjera, også om eg ikkje svarar der så er det fordi eg sparar det i eigne innlegg! PS slutt.[line]
In april we are moving to Norway. I am not so patiently waiting for that life, quiet chill mornings with a fire going and coffee brewing all day. Enough space to house a weekend photography class and enough space for all the props I NEED. We're moving to a whole house, and I am writing long lists of things I would love to have there. Right now, they've removed the paint from the kitchen floors in an attempt to get it back to its former glory, the new bigger windows for the kitchen and dining room have arrived, we are looking at patterns for the checkerboard bathroom floor and contemplating hallway wallpaper. Looking forward to getting back just to be able to show you!
I thought I'd share some of the things here now both so you can see my thinking on how the house will feel, but also so you can help me find some of the things on the list! It's a good mix of our family cabin, Elsa billgren's home, Åmot Opera Farm, Buvette, Johanna Bradford's home plus italian castles.
PS: I've been thinking, in the future I would like to reply to your questions in own entries on my blog, like a lot of other bloggers do. I get so excited when you ask me things, either super trivial or complicated and philosophical. So in the future, just feel free to ask me anything even though it might be completely unrelated to the entry, and if I don't answer it in the comments it's because I'm saving it for one of thise blog posts. PS over.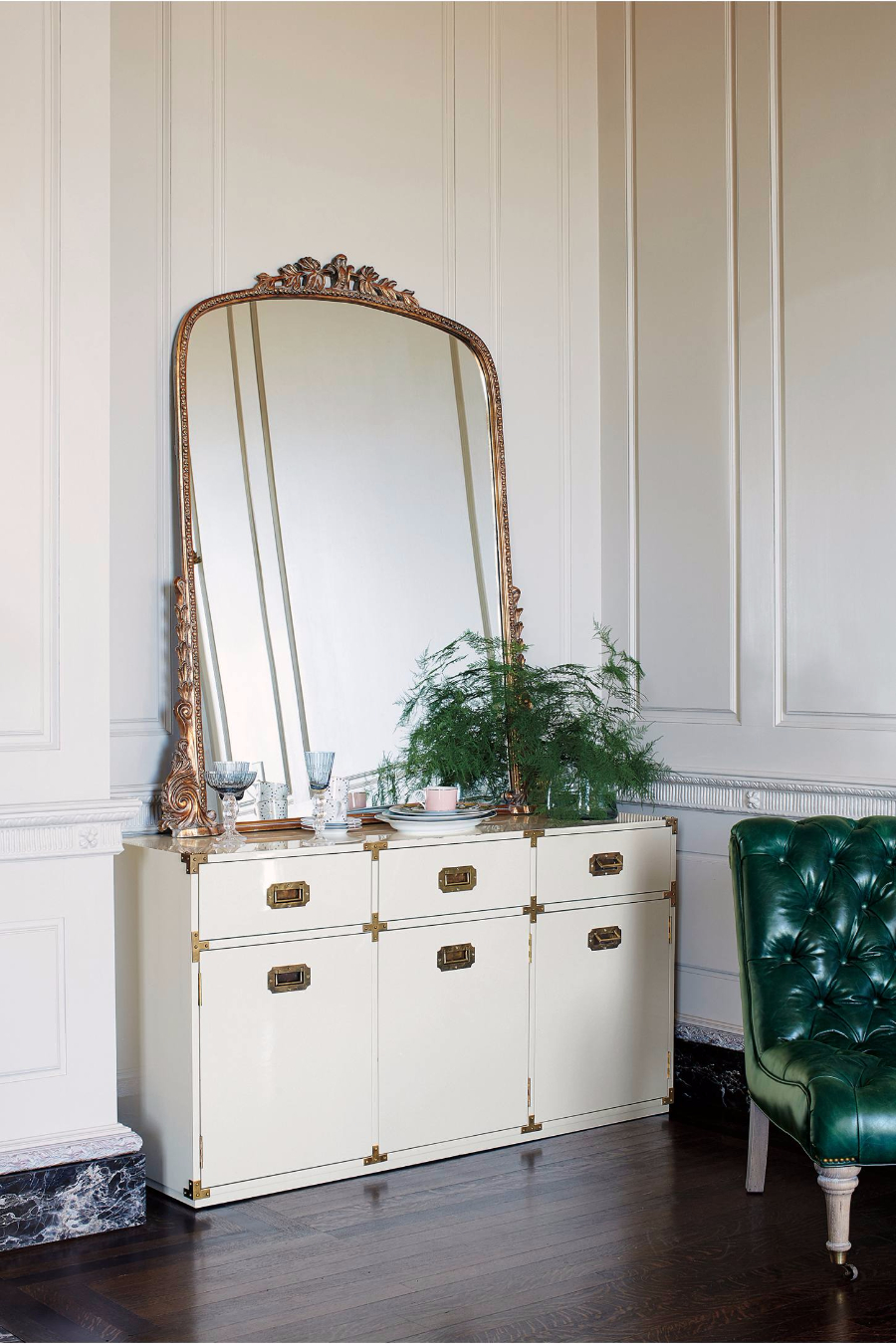 Store speglar med gulldetaljar. Dette er frå Anthropologie, og eg er frista til å legga alle pengane mine på eit sånt før flyttebilen skal gå.[line]
Big mirrors with gold details. This one is from Anthropologie, and I'm tempted to spend all my money on one now before the moving truck comes.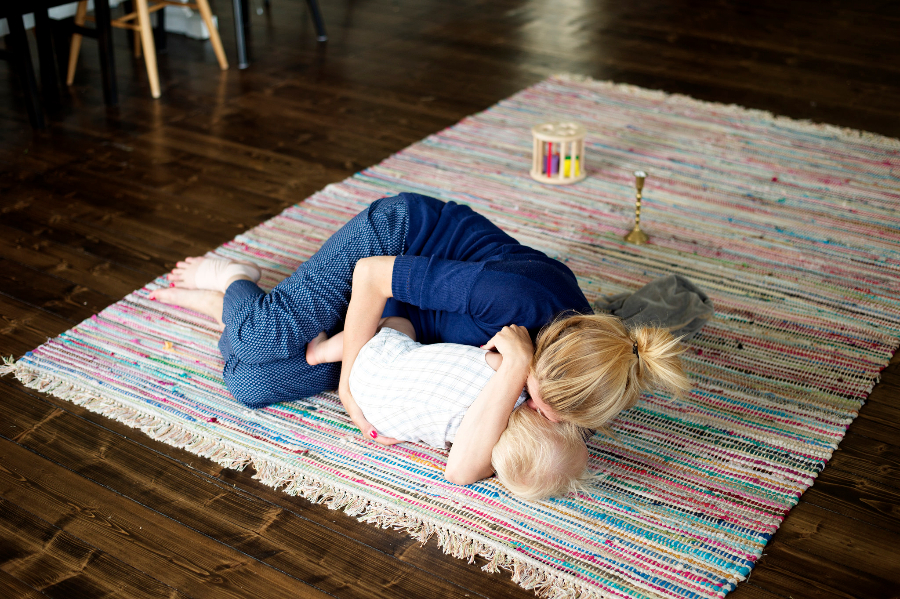 Superstor fillerye, som eg ikkje klarar å finna nokon plass. Hadde vore så fin i spisestua (altså, de andre som skriv nynorsk, korleis i alle dagar skriv ein dette ordet? Etestova?), som óg kjem til å vera mitt kontor. [line]
A huge rag carpet that i can't seem to find anywhere. Would be perfect for our little dining room, which will also be my office.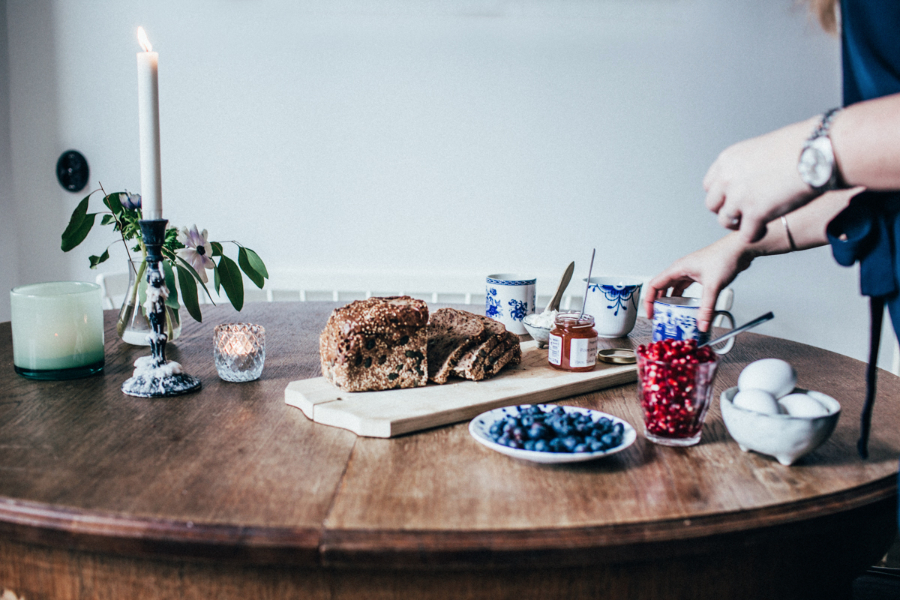 Eit gamalt slitt trebord som har ei rund form.[line]
An old worn down wooden table with a round shape to it.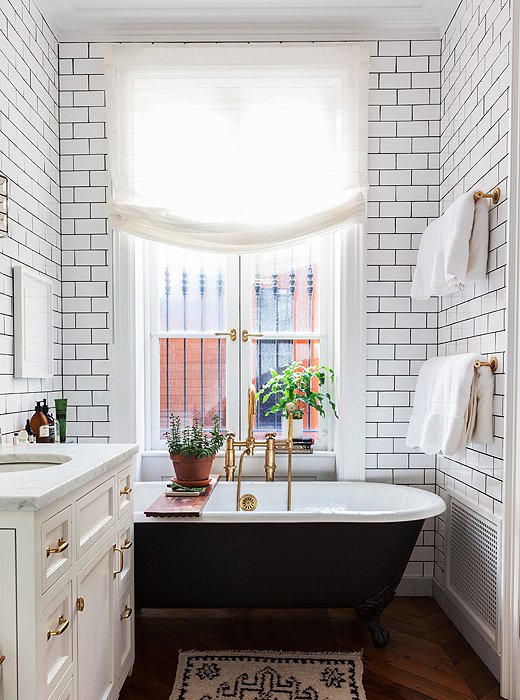 Eit frittståande badekar som ikkje kostar ein million, og fine messingdetaljar som til dømes stengene til håndkle på veggen. [line]
A nice freestanding tub that doesn't cost a million, and brass details like the rods for the towels.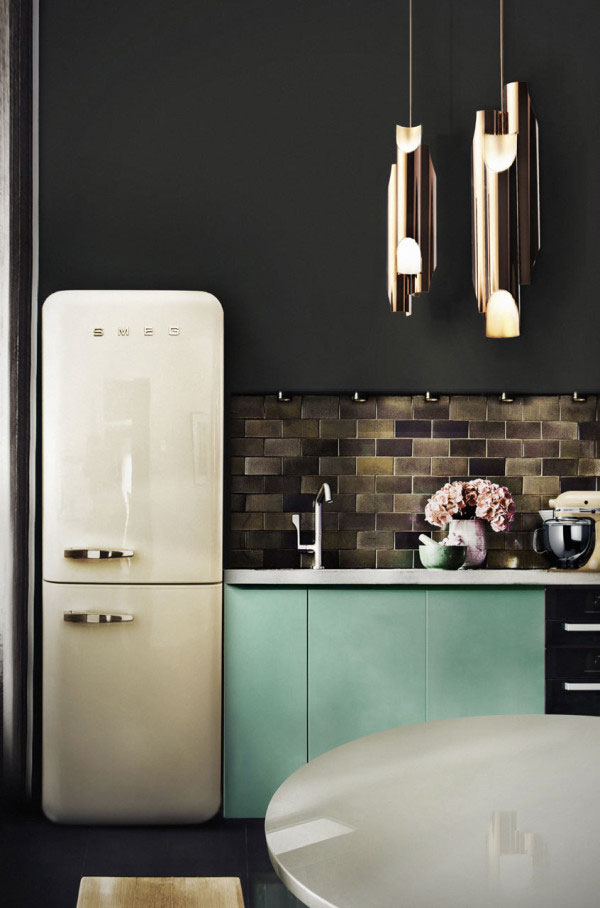 Dette nøyaktige kjøleskapet. Når eg ser det tenkjer eg på champagne og små glas med barnemat.[line]
This exact fridge. When I see it, I think about champagne and little glass jars of baby food.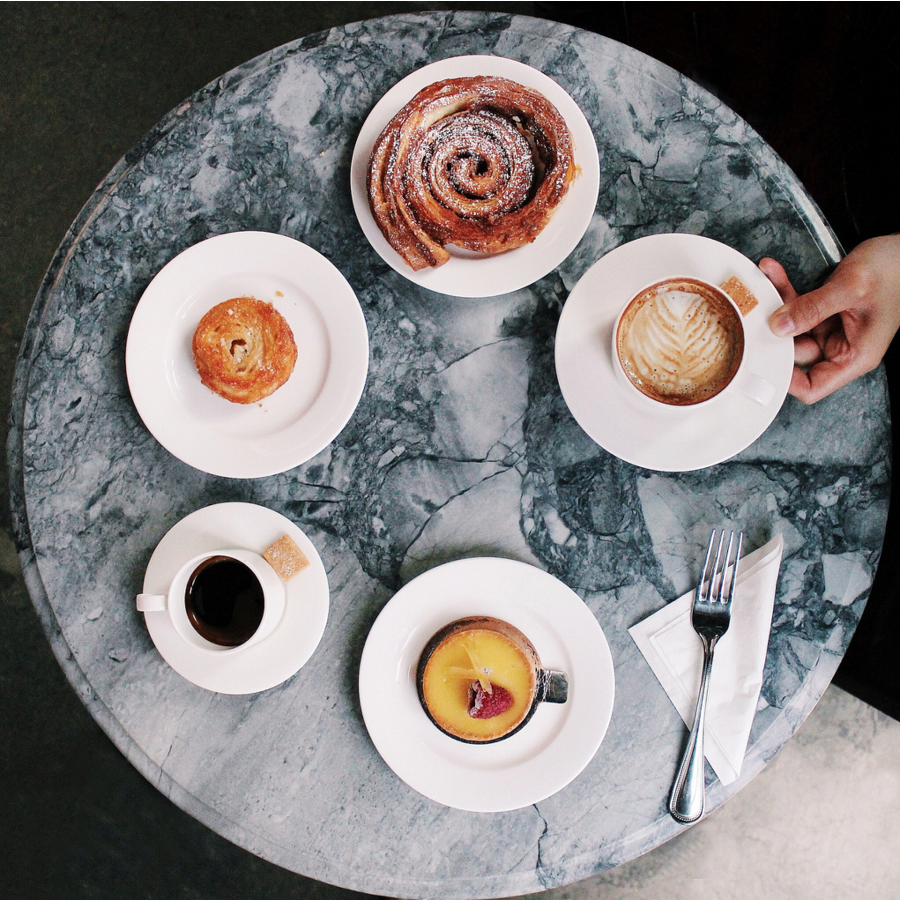 Eit marmorbord, gjerne stort og rektangulært, til hagen.[line]
A marble table, preferably large and rectangular, for the garden.
Eit eventyrlig fint piano. Det står jo eit piano i huset no, men det er ikkje vårt og blir mest sannsynlig henta i løpet av året, så det må erstattast av eit fint, gjerne intrikat utforma, stemt(!) piano.[line]
A fairytale piano. There is a piano in our house now, but it isn't ours and will most likely get picked up some time this year, so it needs to be replaced by a beautiful, preferably intricatly made, tuned(!) piano.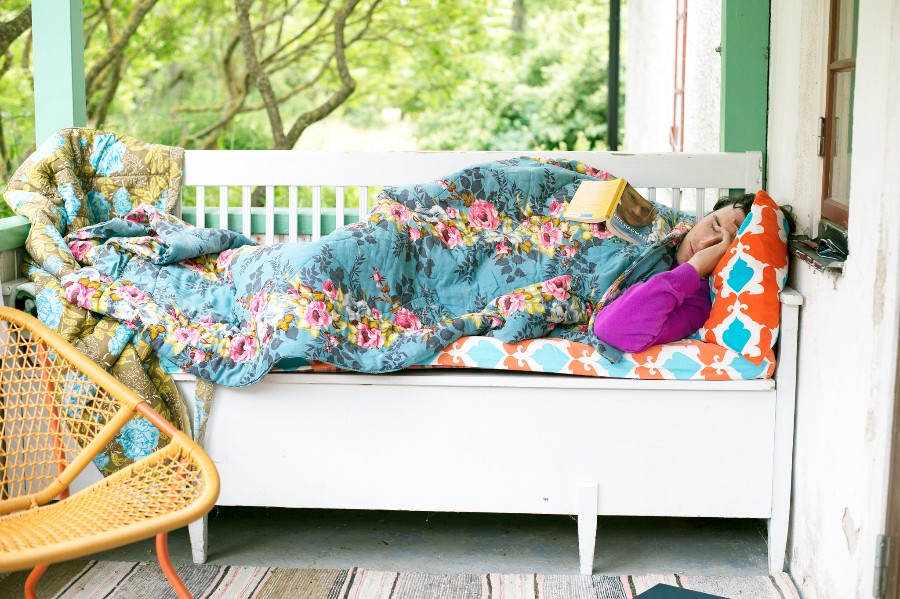 Denne typen tekstil, gjerne i gult, rosa og grønt. Føles som ein miks av Russland og Sverige.[line]
This type of textile, in yellow, pink and green. Feels like a mix of Russia and Sweden.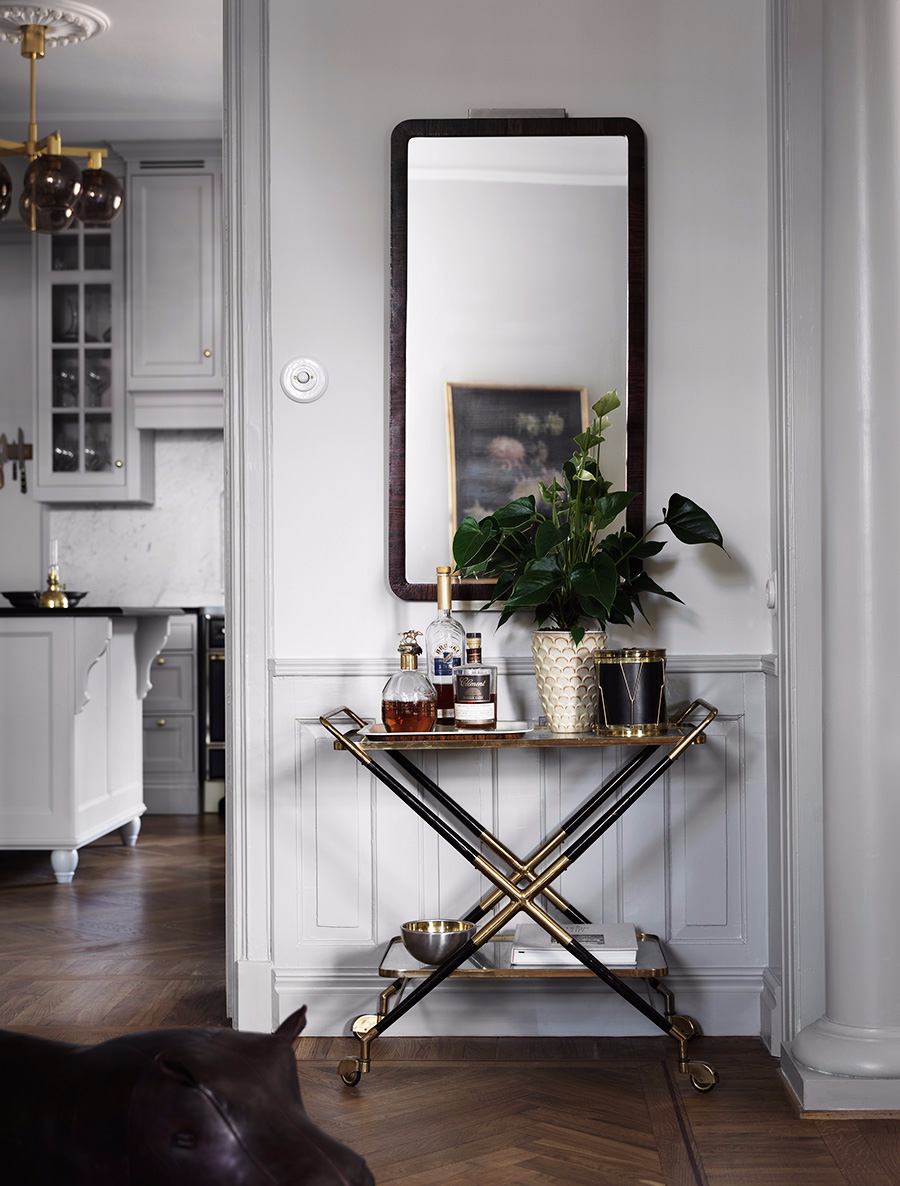 Ei barvogn, gjerne med gulldetaljar.[line]
A bar cart, preferably with gold details.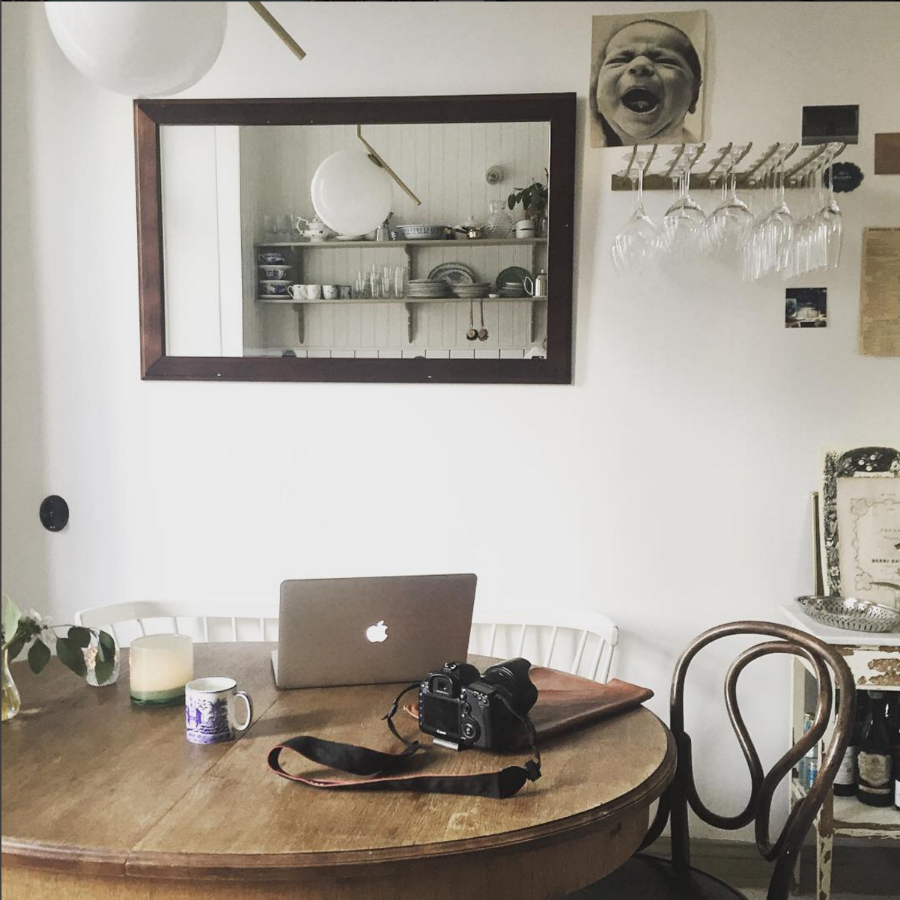 Denne lampa frå Flos.[line]
This lamp from Flos.