kvar er du no?
eg er i leiligheten i london, me kom tilbake hit i går kveld og rulla koffertane inn i ein nymalt leilighet, SÅ herleg.
korleis har du det?
eg har det veldig bra, igrunn. mykje jobb og mykje planar, det elskar eg jo. og eg er så glad for at eg tok fly i går heilt utan angst. eg anar ikkje korleis det har skjedd og det overraska meg, men eg er så takksam for det.

kva var det siste du åt?
surdeigsbrød, eggerøre og mandarinmarmelade til frukost, med blåbærsmoohie og espresso med mjølk. skikkeleg kickstart tilbake i london-livet.

kva gjorde du i går?
i går vakna me i oslo. eg kosa ihjel nevøen min og jobba litt, åt blautkokte egg til frukost og kledde på oss også reiste me i ekebergparken og gjekk rundt. såg på skulpturkunst og åt lunsj på ekebergrestauranten der det var god mat og superb utsikt. så reiste me heim til grefsen og fekk besøk av frøy, fredrik og knut. me sat i hagen og åt is og catcha opp med kvarandre på den beste måten. så kom resten av familien (broren til jostein med kone og tre born) og me vart plutseleg sjukt mange folk der. me spelte kubb, dytta på huske, slo hjul og åt lasagne. så reiste jostein og eg til flyplassen og flaug heim til london. dama i passkontrollen i london spurte om eg kunne snu meg så ho kunne sjå fletta mi bakifrå, også sa ho etterpå til jostein "not gonna ask you to turn around". me kom til leiligheten ved midnatt og hoppa i seng etter å ha gravd den fram (den var nedlessa av ting sidan dei har måla leiligheten).
kva skal du i dag?
eg skal svara på ein masse mailar, planlegga ei spalte for kvinneguiden (den siste som vart publisert handlar om fotografering og korleis bli ein bedre fotograf!), redigera bryllupsbilder, bestilla flybillettar, finna ut kvar ein får tak i blondestoff i london, fiksa til nyhetsbrevet til podcasten som kjem ut på torsdag, hjelpa ein kunde med å flytta domenet sitt, redigera bilder av det nye bryggeriet som kjem i årdal (der eg er ifrå), booka time hos ein ny frisørsalong (er litt lei min veldig flinke men litt for intense frisør i notting hill) og svara på alle spørsmåla de hadde om bryllupet (så mykje fint!). også skal eg dusja big time.
kva skjer i helga?
skal prøva å klemma inn så mykje london som eg absolutt kan, sidan det blir mi siste london-helg før august! det er jo galskap. på søndag kjem synne. synne syr brudekjolen min (<3 <3 <3), og me skal kjøpa blonder og finna smoking til jostein. sååååå spent og glad for det! også har eg sagt til jostein at eg ønskar meg ein eksakt kopi av denne brunsjen, så eg håpar han les dette og hugsar det. 

kva var det siste du kjøpte?
det kjedelige eg kjøpte sist var dopapir, surdeigsbrød, eplejuice og egg. det gøyale eg kjøpte sist var ein mascara frå ysl(faux cils, den samme eg har brukt i seks år no) og ein ansiktsvask frå clinique på flyplassen. også kom me heim til ting eg har bestilt til bryllupet: gjennomsiktige paraplyar i tilfelle det regnar, film til instax-kameraet pluss fine eingangskamera som ser ut som analoge kamera.
når er di neste reise?
neste helg, da reiser eg til åmot operagard(der bryllupet vårt skal vera!) for å fotografera litt forskjellig. helga etter har eg bryllup og dagen etter det bryllupet reiser eg til paris der eg får møta jostein (me skal ikkje sjå kvarandre på ti dagar!!!) og fotografera meir bryllup. SÅ pepp.
kva er det beste med denne veka?
at me er i london, at det er herleg sol, at eg gledar meg sånn over jobb akkurat no og føler eg kan takla alt. også håpar eg å få med meg jostein på å ro båtar i regents' park, det har eg skrive på mi liste over sånt som MÅ skje før me forlet london for sommaren.
kva tv-program såg du sist?
me såg siste episode av veep til frukosten, den var sjukt morsom.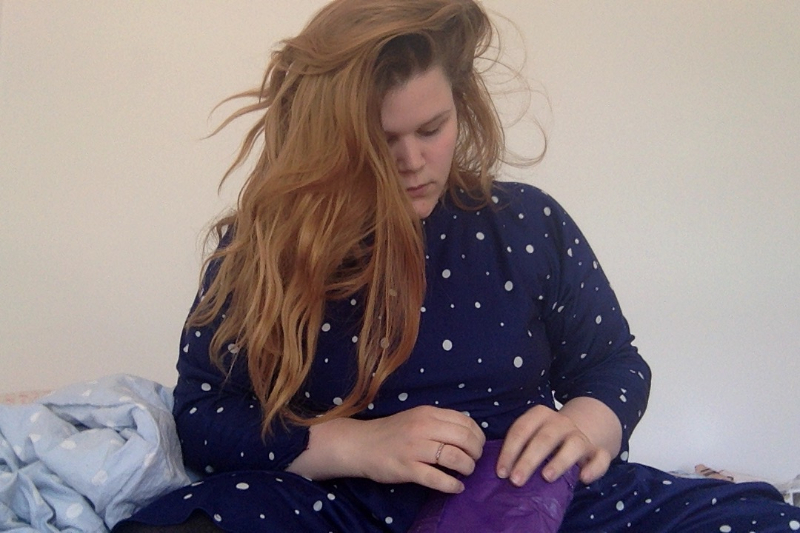 korleis ser du ut akkurat no?
sånn! usminka og med uvaska hår, i senga fordi pulten min er full av greier.
*translation:
where are you now?
in the flat in london, we arrived back here last night and rolled our suitcases into a freshly painted flat. sooo lovely.
how are you?
i'm very well, actually. a lot of work and a lot of planning, which i love. and i'm very happy about my flying yesterday since i had no anxiety. it surprised me and i'm very grateful for it.
what was the last thing you ate?
sourdough bread, scrambled eggs and mandarine marmalade for breakfast, with a blueberry smoothie and espresso with milk.
what did you do yesterday?
we woke up in oslo. i cuddled my nephew half do death, worked a little and had a lovely breakfast. then we went to a sculpture park and walked around, had lunch at a restaurant with a beautiful view. we went home and we were visited by friends, we had ice cream in the garden and caught up on eachother's lives. the rest of jostein's family joined us (jostein's brother with his wife and kids) and we played games, did cartwheels and had a lasagna for dinner. then jostein and i left for the airport and flew back home. the woman at the uk border asked me to turn around so she could look at my braid that she liked, and after me she said to jostein "not gonna ask you to turn around". we came home at midnight and jumped into bed.
what are your plans for today?
i'm going to reply to a lot of emails, plan a column, edit wedding photos, book plane tickets, do research on where to get lace in london, write the newsletter that comes out on thursday, help a customer move her domain, edit photos i took of a new brewery in norway, book an appointment at a new hair salon and answer all the questions i got about our wedding. and take a huge shower.
what are your plans for the weekend?
going to try and squeeze as much as i can out of this city, since it will be my last weekend here before august! it's completely nuts. on sunday synne arrives, she's the one making my wedding dress, we're going lace and tux shopping. soooo excited! and i've told jostein i want an exact replica of this brunch, so i'm hoping he'll read this and remember.
what was the last thing you bought?
the last boring thing i bought was toilet paper, bread, apple juice and eggs. the last fun thing i bought was a mascara from YSL (faux cils, the same one i've used for sex years) and a face wash from clinique at the airport. at the flat were boxes of things i've ordered for the wedding: seethrough umbrellas in case of rain, film for my instax camera and disposable cameras that look like analogue cameras.
when are you travelling next?
next weekend, going to åmot opera farm (where our wedding is held in july) to photograph different things. the weekend after i'm shooting a wedding in norway and the sunday after that i'm going to paris to meet up with jostein (who i won't see for ten days!!!) to shoot another wedding. SO happy about that.
what is the best thing about this week?
that we're in london, that the sun is out, that i'm super excited about my job right now and feel i can cope with everything. and i hope i can lure jostein to go to regent's park to row a boat, it's on my london bucket list.
which tv show did you see last?
we watched veep with breakfast, so funny.
how do you look right now?
like this. no make up, messy hair and in bed because my desk is full of stuff.