langt, langt tilbake fekk eg spørsmål om eg kunne skriva om mine instagramfavorittar. no har eg endelig fått surra meg til å gjera det! her er mine beste instagram-personar.

nikole herriott
så fine bilder av mat at ein ikkje trur at det er sant. kanskje ikkje så rart sidan ho er matstylist.



madelene lindqvist
fotograf i stockholm. vintagekjolar og pastellfargar.

amy merrick
florist som gir meg lyst til å finna ut alt om blomar.



making magique
min gode venn haleigh som postar bilder fra paris, der ho bur, og alle reiser som ho gjer.



sweet things
jessie postar bilder av alle dei fine tinga i livet.



sandra beijer
fine hundar, new york og sjukt god mat.



murr johnson
gir meg lyst til å formera meg typ i morgon. spesielt eldste dottera, som har så lange augevipper og mørke auge og sassy attitude.



nicolette mason
ein av mine internettheltar med bilder av motebildet i new york.



miriam ethel
vintageprinsesse, ser alltid ut som ein drøm. kick-ass-kvinne.



wayward daughter
fine cait postar sine fine klede og fra sin fabelaktige leilighet i edinburgh.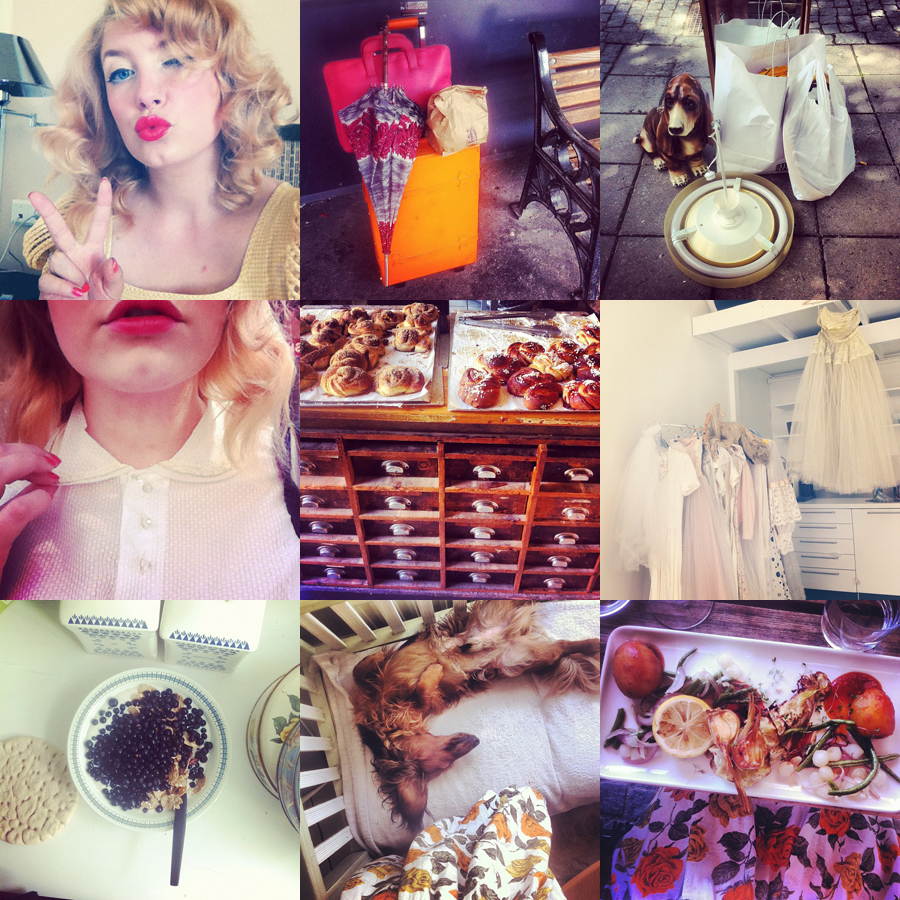 elsa billgren
finaste elsa som instagrammar bilder av vintagestylistjobb, klede og kardemommebollar på kafé.



nicole_franzen
sikleverdige bilder av nydelig mat og reise.



a merry mishap
duse fine bilder som får ein til å tenka på kor fint livet kan vera.



hannah kristina
internettprinsesse óg på instagram, postar bilder fra livet i brooklyn og frå eventyr.



annette pehrsson
ho er ein fantastisk fotograf med gjennomtenkte ruter.
kven følger de på instagram?


translation:
nikole herriott
amazing pictures of food, not so strange since she's a food stylist.
madelene lindqvist
a photographer in stockholm. vintage dresses and pastel colors.
amy merrick
a florist who makes me want to learn everything about flowers.
making magique
my good friend haleigh who posts pictures from paris, where she lives, and from all her travels.
sweet things
jessie posts pictures of all the sweet things.
sandra beijer
cute dogs, new york, amazing food.
murr johnson
makes me want to procreate, like, tomorrow. especially her oldest daughter, with her lang eyelashes, dark eyes and sassy attitude.
nicolette mason
such an internet hero to me. pics from the fashion scene in nyc.
miriam ethel
a vintage princess. always looks so dreamy.
wayward daughter
cait posts pics of her clothes and her amazing apartment in edinburgh.
elsa billgren
the lovely elsa instagrams pics from her vintage stylist job, her clothes and cardamom buns at cafés.
nicole_franzen
droolworthy images of beautiful food and travel.
a merry mishap
makes me think about life and how nice it can be.
hannah kristina
internet princess also on instagram, pic from her life in brooklyn and her adventures.
annette pehrsson
an amazing photographer with an amazingly well curated instagram feed.