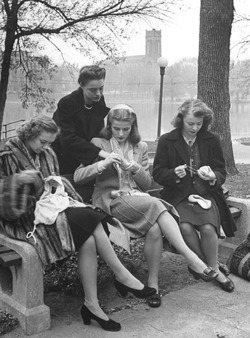 calling alle strikkefolk! det har seg sånn at min kjære mor har starta eit prosjekt som heiter strikk ein lapp. det går ut på at folk strikkar lappar og sender/leverer dei til ho. dei blir så montert til tepper og donert til pasientar på kreftavdelingen på førde sjukehus. det går rundt 160 lappar per teppe, så dei blir veldig takksame for kvar lapp dei får! eg strikkar jo ikkje sjølv, så eg tenkte å ta det inn igjen med dugnadsånd på bloggen. så, om de finn tid og rom i hjartet til å strikka nokre lappar, gjer de sånn:
Første omgang 1 rett og ein vrang, 2. omgang vrang over alle maskane. Gjenta til ca 20x20cm også kan de posta det hit:
alfhild øyre
farnesvegen 48b
6884 øvre årdal
kanskje ein fin helgeaktivitet?
*translation:
my mom has started a project where people knit patches and send them to her. she then makes them into blankets that are donated to the cancer wing of our local hospital. maybe mostly relevant for my norwegian readers, but they need all the patches they can get! to get instructions, email me at mariell (at) hjartesmil (dot) com.