TIDSPLAN & REGLAR & ARBEIDSOMRÅDE
for meg funkar det å ha ein tidsplan. etter me starta å stå opp tidlig, bestemte me at me ville ha ein omtrentlig tidsplan for kva som var arbeidstid og kva som var heimetid. noko av det vanskeligaste med å jobba heimefrå, og spesielt å jobba ilag med kjæresten sin, er at ein ikkje klarar å skru av. med ein tidsplan kan ein av oss sei "hei, klokka er X. no er me kjærestar".
tidsplanen vår ser sånn ut:
stå opp klokka åtte. om me står opp før åtte, flyttar me heilt enkelt tidplanen deretter.
arbeidsstart klokka ni. da har me god tid til å eta frukost ihop, med te og juice og rista brød. me vaskar opp etter frukosten. før eg startar å jobba ryddar eg óg på soverommet, der eg har min kontorkrok. eg jobbar veldig mykje bedre om eg ikkje har strømpebukser og pakkar med kleenex på pulten min. ikkje lov til å sjekka mail før etter frukost!
lunsj klokka eitt/to. me byttar på kven som lagar.
arbeidsslutt klokka seks. da startar me på middagen.
om me jobbar lenger må me avtala det på forhånd. viss ikkje, har begge to lov til å kreva at den andre sluttar å jobba. som de ser, er me "på jobb" i ni timar, men da gjer me óg andre ting inni der, til dømes klesvask eller sånt. sidan me jobbar kreativt, er det mange ting som blir sett på som jobb der grensa kanskje er uklar. til dømes kan me gå på kafé og drikka kaffe og ha det fint, også skribla novelleidéar på ipaden undervegs. eller utforska byen ein heil dag for å skriva guide om det. i helgene har me lov til å jobba til klokka to, men me må ikkje om me ikkje har noko som er presserande eller noko me har lyst til å få unnagjort før helgefølelsen. helst skal eg kle på meg før eg startar å jobba, men det skjer typ aldri. oftast jobbar eg i pysj til rundt halv elleve.
også har eg mine eigne tidsplanar, eller lister. det varierar veldig kva eg gjer, men vanligvis skriv eg ei liste når eg startar om morgonen. der skriv eg alt som skal gjerast, og ofte kor lang tid det skal ta. typ "støvsuga 15 min", "skriva faktura 30 min", "instagram 5 minutt", "redigera bilder+lasta opp 30 min". da er det enklare å vera effektiv, når eg veit at eg må få det gjort for ellers går ikkje dagen opp. eg har bolkar på maks ein halv time, for eg har lært at det er så lenge eg klarar å holda fokus på éin ting. når det er gjort, kryssar eg det ut med éin gang. om eg ikkje skriv det ned, blir det nesten heilt sikkert ikkje gjort. om det er noko eg skal gjera som eg veit at kjem til å ta lang tid, bruka eg å dela det opp i bolkar. som i dag, når eg skal redigera bryllupsbilder, deler eg det opp i antal bilder. da kan det stå "redigera bryllupsbilder, 30 min" også gjer eg noko anna før eg redigerar bilder att. på den måten føles det meir overkommelig. om eg har ein spesielt ufokusert dag brukar eg kjøkkenklokka, den tikkar ved sidan av meg og pressar meg til å jobba. eg legg inn husarbeidet i arbeidstiden fordi eg vil ha heilt fri når eg er ferdig for dagen. jo lenger eg jobbar frilans, jo meir skjønnar eg konseptet fri. kor viktig det er å skru av og ta seg litt ferie. fredagskjensla, liksom.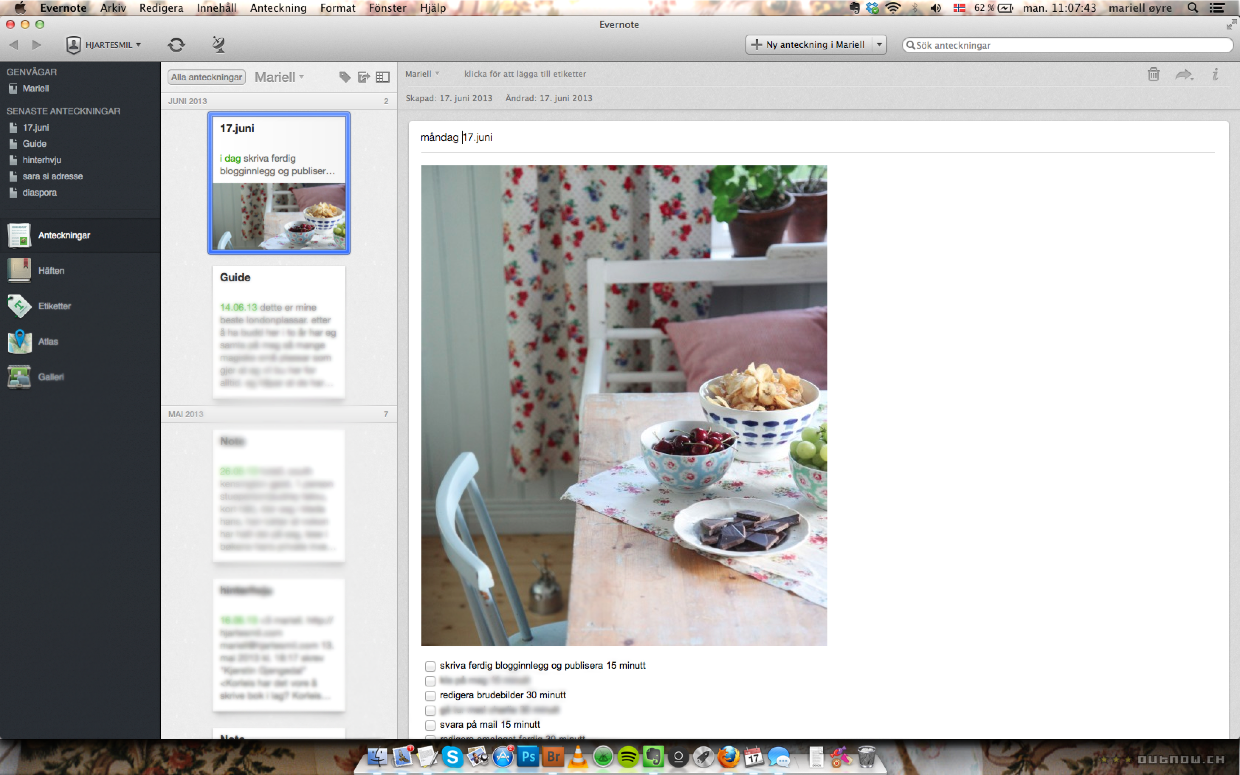 EVERNOTE & TIME OUT
min beste venn i arbeidslivet er eit program som heiter evernote. det er det beste som har skjedd frilansaren sidan almanakken vart oppfunne. eg har evernote på ipaden, på iphonen og på macen min. her lagar eg små sjekkboksar med ting eg skal gjera, samt samlar inspirasjon i bilder og mapper og bruker web clipper til å henta ned heile nettsider så eg har dei tilgjengelig til når eg treng dei. eg har ei sjekkliste for kvar dag, også legg eg inn eit fint bilde øverst berre for å ha noko fint å sjå på, litt motivasjon. om eg veit eg skal noko kult, skriv eg det heilt nederst. i kveld skal eg og jostein på kino, så da står det heilt nederst. da driv eg meg gjennom alt det vanskelige så eg kan komma meg dit! om du er frilansar eller treng strenge rammer for å klara å gjera noko som helst, som meg, så anbefalar eg evernote på det villaste. kostar typ 40 kroner i månaden, men det er det veldig vel verdt. å ha sånne små sjekkboksar er veldig effektivt, føles som ei lita belønning kvar gong eg får kryssa ut ei. om eg gjer noko som ikkje står på lista, skriv eg det inn på lista og kryssar det ut. om eg ikkje får gjort noko, flyttar eg det heilt enkelt til neste dag istadenfor å jobba overtid.
om eg jobbar med eitt spesielt prosjekt heile dagen, brukar eg eit program som heiter time out. det er eit program som poppar opp og gir deg beskjed om å ta pause. kan vera veldig lurt om ein ikkje klarar å stoppa seg sjølv, og treng ei påminning om å gå ein liten tur, eta eit eple, gi ein klem.
translation:
schedule, rules and work space
for me it works to have a schedule. after we begun getting up early, we decided to have a schedule for what is work time and what is off time. one of the hardest things about working from home, and especially working with your boyfriend, is not being able to turn it off. with a schedule either one of us can say "hey, it's x'o'clock. let's be boyfriend girlfriend".
our schedule looks like this:
get up at eight. if we get up earlier, which happens quite often, we simply adjust the schedule.
start working at nine. that gives us time to have breakfast together, with tea and juice and toast. we do the dishes after breakfast. before i start working i also tidy up in the bedroom, which is where my office space is. i work a lot better when i don't have tights and packs of kleenex on my desk. no checking of mail before after breakfast!
lunch at one/two, it varies who makes it.
work stops at six, dinner commences.
if we work later, we have to agree beforehand. if not, both of us can "demand" that the other stops working. as you can see, we're "at work" for nine hours, but we also do other things during work time, like washing clothes and that kind of thing. since we work creatively, it's hard to put the boundary between work and play. we can go to a café and have coffee and talk about different things, and then scribble down some ideas for short stories on the ipad. or spend a whole day exploring the city, as research for a guide. it's all part of the process. on weekends, we're allowed to work until two, but we don't have to. in a dream world, i get dressed before i start work, but that almost never happens. most often i work in my pj's until around half past ten.
and then i have my own schedules. it varies very much what i do, but usually i make a list when i begin in the morning. there, i write down everything that needs to be done and often how long time it should take. like "vacuum 15 min", "write bills 30 min", "instagram 5 min", "edit and upload pics 30 min". it makes it easier to be effective, when i know that i have to get it done or the day just disappears. i have blocks of maximum 30 minutes, because that's my attention span.  when it's done, i check the box immidiately. like today, when i'm editing wedding photos, i split it up into chunks of 30 minutes, and do other things in between. if i'm having a particularly unfocused day, i use the kitchen clock. it lays next to me ticking, and races me to work. i add house work into my daily lists because i want to be done when i'm done for the day. the longer i work freelance, the more i understand how important off-time is.
evernote & time out
my best friend in work life is a program called evernote. it's the best thing to happen to the freelancer since the invention of coffee. i have evernote on my ipad, my iphone and my mac, and they are always syncronized so i always have the same information everywhere. i make check lists of things to do with little boxes to tick, and gather inspiration in folders. i use the web clipper to collect whole web pages, so i have them available if i need them. i have one check list for every day, and often with a nice photo just so i have something nice to look at. the photo in my evernote to day is by underbara clara, and it looks like what my two weeks of summer vacation will hopefully look like. if i know i'm doing something awesome, i write it at the bottom so that i have something to work for. like today, i'm going to the movies with jostein! i work my way through the hard stuff so i can eventually get there. if you're a freelancer or need something to help you work, evernote is your friend. it costs around four pounds a month, but it's so worth it. the check boxes are very effective, feels like a reward every time. if i do something that isn't on the list, i write it down and tick the box. if there is something i don't get done, i move it to the next day.

another program i sometimes use is time out. you program it to let you know when it's time to get up from your chair and stretch. if i'm working on just one particular project all day long, i use it to remind myself to take breaks, take a walk, do some jumping jacks, give a hug and have an apple.